"In the belly of fascism and colonialism" is a trans-disciplinary project that deals with the intersection between Italian historical colonialism and today's racism in contemporary Italy. The aim is to analyze critically the present Italian colonial matrix of power through the thinking and critical engagement of those who have the status of migrant cultural workers, including the so-called "second generation" migrants, that are precise regarding their post-colonial background, in order to acquire a non-Eurocentric genealogy of our European history.
What is necessary is in fact to start to think about us the "natural white" citizens of Italy and the EU differently; to see that our privileges and hegemonic positions are an outcome of the fully brutally conducted processes of dispossession, exploitation, discrimination, death and subjugation. Processes that were carried out historically and that are presently reinforced and perpetuated.
Therefore the project departs and insists on
an almost absent critical debate in Italian society of the impact of the colonial/fascist heritage on the contemporary migration flows;
the racialised and gendered perceptions of the constructed representation of the "Other";
the ever-increasing restrictive racialised past and contemporary laws.
The reason for this project is in a need for learning and understanding in what consists the historical relations in- between fascism, colonialism and capitalism and how this history still shape the present time.  The urge is to elaborate and practice strategies to dismantle the constant contemporary reproduction of racism, sexism, discrimination and subjugation all around.
During my research I came across a huge quantity of written material, from academic papers and  literature, to  journalists' contributions. Through the process of reading I started to get self-formed on these topics that still need to be worked through, intensified and re-elaborated.
I want to list some names that helped contribute to my formation: Hamid Barole Abdu, Kaha Mohamed Aden, Ali Mumin Ahad, Rando Devole, Ubax Cristina Ali Farah, Antar Mohamed Marincola, Shirin Ramzanali Fazel, Gabriella Ghermandi, Igiaba Scego, Ribka Sibhatu, Maria Viarengo, etc. These are just a few of the many people who have had direct or indirect relationships with Italian ex-colonies and that are actively part of (socially and linguistically) the cultural spheres of production based in Italy. Their texts have been, for me, a basis to learn a part of history, which for many years was absent from my cultural background.
Relevant references, for me and  for these authors as well , are some of the most dedicated and older historians on Italian colonialism, such as Angelo Del Boca, Alessandro Triulzi, Giorgio Rochat, Armando Gnisci and Nicola Labanca. The fact that these are all male historians is not by chance. White female historians have had a marginal status in Italian academia. In recent years the number has increased and among other experts on colonialism we can find Sonia Sabelli, Franca Sinopoli, Lidia Santarelli,  Cristina Lombardi-Diop and Caterina Romeo. To find non-white historians and professors in schools and universities in Italy is almost impossible and this is directly connected with well-rooted institutional racism.
I also have to acknowledge that the background of my interest is formed in the Academy of Fine Arts in Vienna in the department for Conceptual Art (called Post-Conceptual Art Practices) that opened lengthy research on the topic, debates and contestation as well as in relation to the post-Nazi condition of Austria as well. Therefore, my research is a not a specialization but has a strong connection to the processes carried out in the present day regarding the Nazi and colonial past in Europe and post Nazi condition in Austria.

So what is the project about?
It is more a platform than a single project that includes videos/interviews, a video/projection, photos, zine, an online web archive, etc.
The videos presented on the monitors document interviews with some of the most prominent figures in my research for this project, which are: Antar Mohamed Marincola and Igiaba Scego. They talk and elaborate on colonialism, in particular Italian colonialism in Somalia and its repercussion in contemporary racist Italy.
Antar Mohamed Marincola is a writer, teacher, actor and intercultural mediator. He works and lives in Bologna. He was born in Mogadishu (Somalia) in 1963 and he grew up during the Siad Barre regime. Antar moved to Italy in 1983 because of an academic fellowship awarded to him by the Somali Ministry of Education and the Italian Ministry of Foreign Affairs.  His last publication was Timira. Mestizo Novel, initially written through collaboration between Wu Ming[1] 2 and Timira Hassan Yere (Isabella Marincola), who was Antar's mother. During the process of writing, Timira died, and so Antar took over the role of co-author. The book is a sort of biography of Timira Hassan Yere that has many historical references to the political context of her time: Italian colonialism, fascism and (post) colonialism. In the book Giorgio Marincola, Timira's brother is also mentioned; he was a Black Italian partisan, who was murdered by Nazi troops in May 1945, only few days after the "Italian Liberation Day" (25 April 1945).
Igiaba Scego is an Italian writer, editor and journalist of Somali origin. She works and lives in Rome. Her parents migrated to Italy in 1969, after Siad Barre state coup.  After graduating in Foreign Literature at the La Sapienza University in Rome she obtained her doctorate in pedagogy. In actual fact she is dedicated to novel writing, journalism and research which focus on intercultural dialogue, transcultural understanding and migration. In her last book, La Mia Casa è Dove Sono, remembers the first twenty years of her life; it is the story of a black child who was born in a white dominating culture and country; the story of an Italian treated as a stranger, about her being Somali and her parent's roots.
Throughout this text I will also use quotes by Antar and Igiaba from the interviews.
The desire to collaborate with the above mentioned rises from the decision not to make a project on them specifically, as they would become objects of my analysis, but rather with them, on the analysis of the discourse, on the socio-political conditions of the past and present, on their and our lives. The challenge is to go along with the project whilst questioning my position of white European.
As part of the research I would also want to record witnesses of and from the colony, as these documents are not so readily available or easy to access. This is also a generation that is slowly disappearing. We whites have canonized history with a Eurocentric point of view whilst oral and written history and cultural traditions from the colonized country has been dismissed for ages. This is now changing with the contribution of colonies descendant's cultural works that counteract dominant narratives. They are giving strong signs of hegemonic epistemic disruption.
These topics have been completely removed from history books; there is a big lack of knowledge amongst the youth and adults. Most likely, in the last year of the high school, when you are supposed to focus on modern history, the time given to engage seriously and deeply with the subject never seems to be enough. History is presented as a list of names and dates to remember, mostly without the names from those being colonized. There is no chance to push for self-reflection and critical thinking.
In order to let the work not only circulate exclusively in academic communities, among related professionals or people interested in the matter, one of the future steps would be to start to present the work in schools in Italy and enable a discussion with the students on the topic. In this time when violent racist episodes occur again and again it is our own responsibility to gain awareness on what is going on and to sensitize people on anti-racist practices.
The Lampedusa tragedy in 2013 where more then 350 refugees died, and are today taken as an emblematic sign of the situation, is just one of the cases in this terrible history of necropolitics in the relationship between the EU and the post colonial country, as it was named  the status of Africa by Achille Mbembe,  yet to be written. Though the fact that the Lampedusa's dead drowned bodies will be granted Italian citizenship in order to be buried in Italy cannot mislead us, as on the same ground the others who escaped death will be charged and expulsed from Italy. This shows the perversity of the situation in the present moment.
On the 14th October, the Interior Minister Angelino Alfano, announced a "humanitarian military" mission to "solve the problem" of undocumented immigrants landings in the Mediterranean. The plan is called Mare Nostrum and will be implemented in collaboration with the Navy.
Mare Nostrum (from Latin Our Sea) is the name that Romans gave to the Mediterranean Sea.  References to Roman History were used also during Italian imperialistic aggression toward the colonies. It is not by chance if many of the people that are trying to reach the Mediterranean coasts are coming from those countries, such as Lybia, Somalia, Eritrea and Ethiopia, that in former days, not so long ago, were appropriated by force and become to be part of the Colonial Italian Empire.
The word fascism in the title doesn't refer exclusively to the fascist dictatorship of Benito Mussolini, but it denotes here a supremacist and repressive dispositive that operated historically and continues to operate in various forms, more or less visible, in contemporary European societies.
What you will see and read is not conceived as a finished product. A project should not be a mere product to be consumed but a dialogical on-going process. A process of being together, a process that gives a possibility to be together, corpo a corpo, (body with body) a process of talking, a process of thinking and a process of acting. This project should never have an end, it should be developed and hopefully multiply through others people mind and activities.
---
[1] Wu Ming ("anonymous" in Mandarin) is a militant collective of Italian authors formed in 2000. They are all coming from the previous community project called with the pseudonym Luther Blissett where they engaged in cultural guerrilla, semiotic sabotage and urban/media pranks. http://www.wumingfoundation.com/giap/

A)   A proper history retold:  STUDYING 
In the so-called "Bel Paese" (Italy) we still didn't deal with the horrors of our past and we still continue to promote forms of oppression toward the non-communitarian subjects and their descendants, also through those forms that appear falsely as innocent and "positive".  My interest on this thematic rise from the disgust that I feel daily feel by listening to and seeing the Italian State, and the EU supranational apparatus subjugating people, perpetuating inferiorization, racialization and oppression mechanism in contemporary society.  There is the urge to remind with no fear, here and now, of what history we are made, while fighting the ignorance that brings us to live in this ill society, in this white supremacist, capitalistic, racist, patriarchal society, as b. hooks would say.
Since I study at the Academy of Fine Arts in Vienna, in the post conceptual art practices lead by Professor Marina Gržinić, I had the chance to develop deeper into issues that were already in my field of interest, from the artistic and, philosophical/ and political point of view.  The international context wherein which I found myself, with many worldwide colleagues, has given a fundamental value to this experience.  The fact of studying in Vienna, an "imperial" towncity in the middle of Europe, in an elitist institution with exclusive and controlled access, has clashed with the reality of precarious youth many of whichwhom coming from non-EU countries and subjected to the strict Austrian bureaucracy. From the waiting for the visa, that often has postponed their presence in the Academy for at least one semester, to the search for money to show enough economic sustainability, to the never ending procedures in order to live in Austria, etc. During these years we tried in different ways to intervene in the racist structures of the academyAcademy and we used art as a tool to gain these changes, to take back spaces, physical and of thought.
All these forms of institutional racism as well as all other forms of discrimination in Austria are just an example of the dynamics that characterize the Western Europe in its entirety and they are now impregnated within the social, political and economic body of the EU (named the fortress Europe).
B)   The political, social and economic situation in Italy 
I was born in Acqui Terme, a northern Italian town located in the Piedmont region, into a family of internal immigrants. My parents originate from many generations from Altamura, a town from a Southern region, Puglia.
The process of industrialization, which started with the Italian Unification, had a strong drive, and started after the Second World War, with the introduction of capital to Italy that came in the form of aid for reconstruction. Between 1950 and 1970 there were strong waves of emigration, both external and internal. Many people emigrated to Argentina and Australia, but internal migration to the cities of the industrial North has no precedent in European history because of its vast dimensions[1].
The south, which was committed to agriculture and farming, was considered "under-developed", "troglodyte", with a "low cultural coefficient" and a high unemployment rate.
It is clear that the oppression in the colonies was and is perpetuated internally. This situation was excellently described in Frantz Fanon's work.
With the establishment of the industry a large amount of low cost labour was necessary, so the masses – particularly the men, an exploitable labour force from the South – moved toward the "modern" north. Southern people were ridiculed, exposed, discriminated and segregated, considered dirty and uncivilized. Statements such as "No entry for dogs and southerners", "Do not rent to the southerners" could be read on the walls of the cities.
At the time, the building sector also had a great success and it is in this working field where my father situated himself. So, at twenty-something, the quasi-strange couple, my parents, moved to Acqui Terme. It is in this city where they decided to stay and give birth to their three children.
I grew up in a city ruled by the Northern League (Lega Nord), a political right-wing party well rooted in the local territories of the northern regions as well as in public institutions (local, national and international). From its formation it has proudly promoted xenophobic and racist sentiments.
I still remember when, years ago the mayor passed a motion that included a downright bounty on Albanians 'sans-papiers', which was "awarding" one million liras (Italian currency before the Euro) to those citizens that would report to the authorities an  "illegal" migrant.
We are speaking of course precisely about that country, Albania, which was temporarily occupied by Italians in the final stages of World War I (1920) and then conquered militarily by Mussolini in 1939. The Italians, more than 30 thousand, between settlers and workers, who disembarked and occupied Albania, quickly turned the Kingdom of Albania into Italian protectorate.
What was the impact of colonialism in the aftermath of the political situation of the colonized countries?
What is legal and what is illegal? Is it legal for a government or an economic system to continuously and even silently still kill people?
The Northern League is the party responsible that evicted ​and destroyed many Roma settlements, to have retrieved the usefulness of the crematorium toward Moroccans, to have created games on the internet such as Bounce off the clandestine where the winner is the one who manages to repel the largest number of immigrants, to have compared migrants and black people to animals (it happened recently with the Minister for Integration Cécile Kyenge, the first black woman in the government in Italian history, who since the first day she started work has been subjected to horrible racialised insults, even from colleagues).
Among the bloodiest statements of the Northern League exponents against the minister I can report the following abhorrent insults:
– Dolores Vanlandro on Facebook writes, "Nobody wants to rape her, then she could understand what the victim of such a bloody murder (rape) can feel?[2]";
-Roberto Calderoni, "When I see pictures of Kyenge I cannot throw the appearance of an orangutan out of my mind[3]";
-Alessandro Brianza and Edgardo Arosio stated, in reference to what happened at the convention of the Democratic Party (Pd) (where the Minister has been the target of an attack with  bananas by Davide Fabbri, a former participant of the reality show Island of the Famous): "If they had thrown coconuts they would have hurt her. So launching the bananas … she must be happy."
-Moreover Vittorio Milani, a former member of the autonomist movement "Veneto State" wrote on his Facebook profile: "Kyenge says that if we want to remove the burqa, then the nuns have to remove their outfit called a habit, too. This is absurd; someone should kill this bitch, she's stupid and useless."[4]
Another threat on Facebook, this time from a man (61 years old) from Verona who in anticipation of the inauguration of the project African Summer School in Verona, attended by the Minister, wrote:  "Let's welcome the nigger minister in Verona with weapons[5]"
The extreme right party Forza Nuova is brutally attacking her. Recently, during another convention that she attended, mannequins spotted with red paint were located next to the stage. Alongside the flyers: "No to the ius soli,[6], immigration kills". And still a poster appeared on the walls of different cities, from the south to the north, which says: "Immigrants go back to your country! In Italy we've lost our jobs, our home, our future". The statement is even translated in five different languages.
The list of insults and racist acts toward constructed categories of "inferior" people, especially black, Islamic and Roma is endless.
It is annoying to listen to all these disgusting things nevertheless I think that we should remember daily, the hidden background of this system of  dismissals, a historical way thinking and of fascist brutalities that still live and reproduce themselves today.
Therefore, it is on such a basis that the politicians and media instigate racial hate by thinking that they have total control on our minds and hearts. Therefore, yes, maybe, to hate but only our fake white racist misogyny.
In the last decade many right wing movements and political parties expanded and increased consensus. Aside the already mentioned Northern League and Forza Nuova, we can list Casa Pound, Fiamma Tricolore, Patria Nostra, Azione sociale (by Alessadra Mussolini), Resistenza Nazionale. Internet as having amplified the effect of spreading their racist ideology through web pages, social networks, forums, etc. Nevertheless they also take over (we can also use the word "curate") cultural and artistic movements, initiatives, events and various activities. With these they have constructed a very "successful" system in delivering their messages and spreading their ideas. The use of pop-culture in their politics is a sly way to "normalise" cultural, social and aesthetic views of fascism in the public discourses.
One of the movements that struck my attention and the attention of  many who are aware of this, what I can term, "FASCISM RELOADED", is the fast growing "grass-roots" right radical neo-fascist Casa Pound. In the public opinion it became known in 2003 with the squat of a state owned building in the near of the train station Termini with the motivation of helping families who have emergency housing. With this kind of action they contested what they term "reactionary stereotype that the occupation of empty buildings is an exclusive practice of the left." To understand the big impact that this it has on the social level I want to mention some of the initiatives they developed in these years among which the "Social loan", a law proposal dedicated to create a regional apparatus with which housing blocks would be built with public money and then sold at the price of the cost of production to "Italian families" (not yet owning any real housing estate). And the project "Time to be mothers" that calls for a reduction of the working hours, from 8 to 6 hours a day, for one of the parents of a child between the ages of 0 to 6, whilst the salary would hold steady.  At the moment they also manage a network of bars, libraries, pubs. They even have a theatre company (Teatro Non Conforme FT Marinetti/Nonstandard theatre FT Marinetti), two sport schools and teams, two magazines L'Occidentale/The Western and Fare Quadrato/Close ranks, a web TV channel (TortugaWeb)  and a web radio (Radio Bandiera Nera), rehearsal studios,  an artistic movement called Turbodinamismo and an association of artists called "Artisti per Casa Pound". For them in this latter project (I quote and translate from their web site) the "art is mainly 'political' in the sense that it has always the feet firmly knock in the life of the polis, from which it draws its nourishment and which gives it the fundamental orientation."
This calls to rethink political art and the vocabulary we use and the differences we established.
I believe that this list of information can make us more aware of the worrisome status of how fascist ideology is penetrating the life of many without a historical memory. Fascism is there but without history of  earlier historical Fascism and it is presenting itself as a populist movement to make the life of Italians ( and we can state in blood and soul with a clear racist  ground) "just" better.
In their program they have been appropriating concepts, vocabulary and causes that are part of the once clear leftist struggles. But the right of housing, the fight against the financial dictates and privatization is done by reinforcing nationalism and racism, preached through radical contrast to immigration mechanisms.
Antar Marincola says: "The right wing still exists and it will always exist. You can always create the burden of the migrant, just as the Italians are linked to the mafia and spaghetti: the stereotype. That will always exist. The Moroccan drug dealer, the Somali criminal, and so on.  This thing enters in the emigration and immigration logic. The right wing is omnipresent; they will always be by your side. This is a certainty in western countries.
But what do the leftists do in this regard? What kind of other politics? What kind of integration do they do? In which kind of processes are they involved? Which kinds of inclusion mechanisms do they develop? What kind of prospects do they have according to the world that they are controlling and managing? What is the European left-wing doing for real integration? The right wing has always done its job and it will do it better and better, especially in times of crisis like this, it will do it doubly better, but where is the left? Where has it been? Who created the detention centres for migrants, the Bossi-Fini or the Turco-Napolitano law?"
Igiaba Scego says: "I was very impressed by the Dominican American writer, Junot Díaz, who said that we must decolonise love. This is a strong statement because we have very unbalanced relationships between employer and employee, or between members of the same family or even for a couple. I think that to decolonise love, affections and the labour relationships is absolutely important. We must begin to tell the truth, to scatter these alleged inferiorities and superiorities.
We have to, and I've thought about this for quite some time, to decolonize Italian politics because it is full of stereotypes. It ranges from the hatred of the Northern League – "We don't want these King Kong people, they should return to their countries!", a rhetoric we have lived with for twenty years and more – to paternalism.
I believe that the Italian leftists or Italian progressivists have to decolonise their relationship with the migrants and migrants' children because personally I'm tired of always being considered the victim, -I'm not a victim at all – or who claims to speak in my voice – I have my voice and I can speak for myself – and then above all the debate on "ious solis" makes me want to vomit because for many years they just speak about making a law, which is rather simple.
We are beyond paternalism. This means to not understand that your country is anthropologically changed because there has been a very strong change.
Then we always talk about children when the problem also affects people of my age – next year I will be 40 – I was not born yesterday, I'm the daughter of immigrants, I'm Italian and Somali, so let's stop talking only about children, we are both children and adults, soon we will be the elderly, we would need to talk about our pensions. Politics stewed me greatly and then also the rhetoric of embracing black children to show that we are so progressive etc. No, there is no need for exterior superficialities, we need stability and facts."
---
[1] For more information look at the A.S.E.I. (Historical Archive on Italian Emigration) web site: http://www.asei.eu/it/archivi/
[2] Original quote: "Ma mai nessuno che la stupri così tanto per capire cosa può provare la vittima di questo efferato reato?".
[3] Original quote: "Quando la vedo non posso non pensare a un orango"
[4] Original quote: "La Kyenge dice che se vogliamo eliminare il burqa anche le suore si devono tagliare il velo. Siamo all'assurdo, qualcuno uccida questa p… idiota e inutile".
[5] Original quote: "Accogliamo la ministra negra con le armi a Verona".
[6] The Ius Soli is the condition that guarantees the citizenship to those children born in  the territory of that State, regardless of the nationality possessed by the parents. At the moment in Italy the citizenship is given through the principle of the ius sanguinis that means by blood lineage.
         
C) Intervention in spaces of amnesia
The 2013's Italy is a country in deep crisis: economic, political, social and of thought/action.
It is especially in such moments that violent and repressive episodes, security and control mechanisms, diverse forms of extremism, intensify.
It is a country that search for easy targets on which to point the finger by omitting an in-depth analysis of the causes that lead us to live in this sick society.
Everything becomes a commodity. Education, relationships, knowledge, culture, experience, bodies, cells, sex, health and damages. Life and death.
Separated, isolated, depoliticized this is how the system wants us.
Subjected to the recruitment of puppet troops. Sometimes forced, sometimes volunteer.
All in the name of democracy.
Maybe it is time to re-democratizing democracy? Overcoming democracy? Re-inventing democracy?
How can one still speak of democracy in Western society when it feeds inequality, de jure and de facto, of parts of the population? Are there wo/men that are more equal than others?
Monsters are hidden in the closets, the horrors of the past.
We still didn't deal with colonialism, nonetheless with fascism.
Living deads, as Achille  Mbembe would say, are multiplying in our homes, streets, beds, schools and offices.
Void and deprived beings, easy to fill with slogans and false promises.
If it is not physical death that we are subjected to, it is certainly that of our rights. Especially for those who are oppressed from Fortress Europe.
Which rights? Our rights!
The bureaucracy, the denial and the oblivion are just as repressive forms as physical violence.
 "When I turn on my radio, when I hear that Negroes have been lynched in America, I say that we have been lied to: Hitler is not dead; when I turn on my radio, when I learn that Jews have been insulted, mistreated, persecuted, I say that we have been lied to: Hitler is not dead; when finally, I turn on my radio and hear that in Africa forced labor has been inaugurated and legalized, I say that we have certainly been lied to: Hitler is not dead."
Discours politiques, election campaign of 1945, Fort- de-France, Aime Césaire. From Black Skin, White Masks, p. 90, Franz Fanon. 
  1. When I listen at the newscast that Abdul Guibre[1], Samb Modou e Diop Mor[2] have been brutally killed, I say we have been lied to: Mussolini is not dead; 2. when I read on the newspaper about the statutory provisions on the subject of immigration, I say we have been lied to: Mussolini is not dead; 3. if by opening a link on internet I read that in Nardò[3] hired hands are subjected to true exploitation conditions, I say we have been lied to: Mussolini is not dead; 4. when I read on a foreign newspaper that in Affile has been erected a monument in memory of a fascist and colonialist general, I say we have been lied to: Mussolini is not dead; 5. when I listen at the radio the inhuman state in which thousands of women and men are forced to live at the identification and deportation centers, I say we have been lied to: Mussolini is not dead; 6. when finally, I connect to internet and I watch on Youtube a crew of young girls attacking a girl of the same age because she is black[4], I say we have been lied to: Mussolini is not dead. 7. Mussolini is not one. It is an apparatus of ogres, corrupted and bribed men.
Here below the pictures of the intervention in spaces of amnesia.
1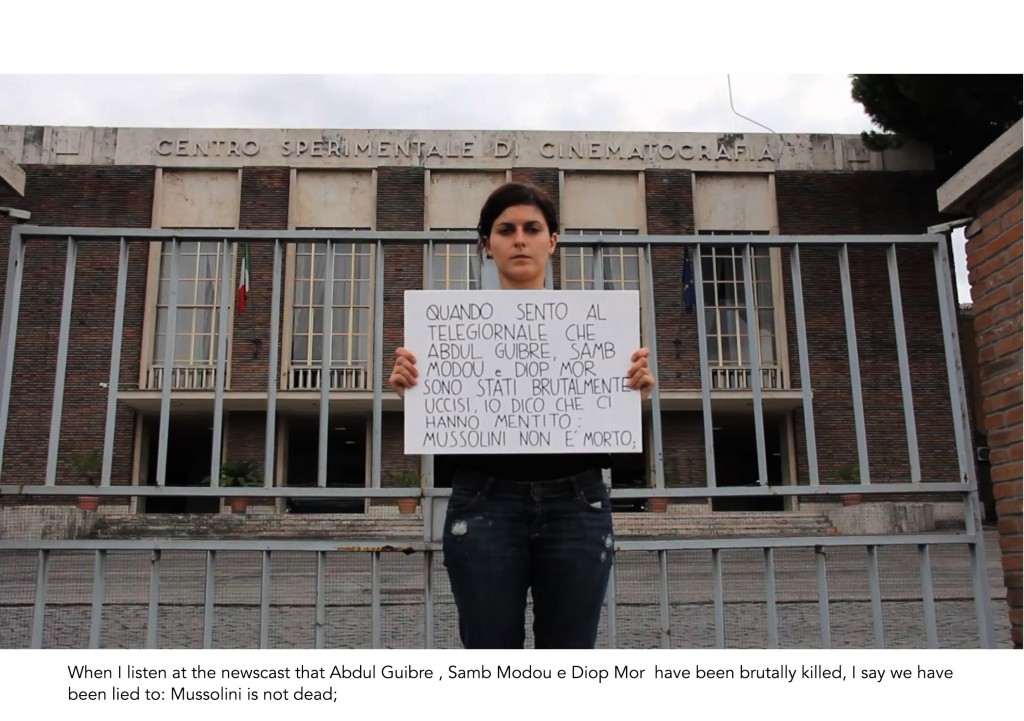 2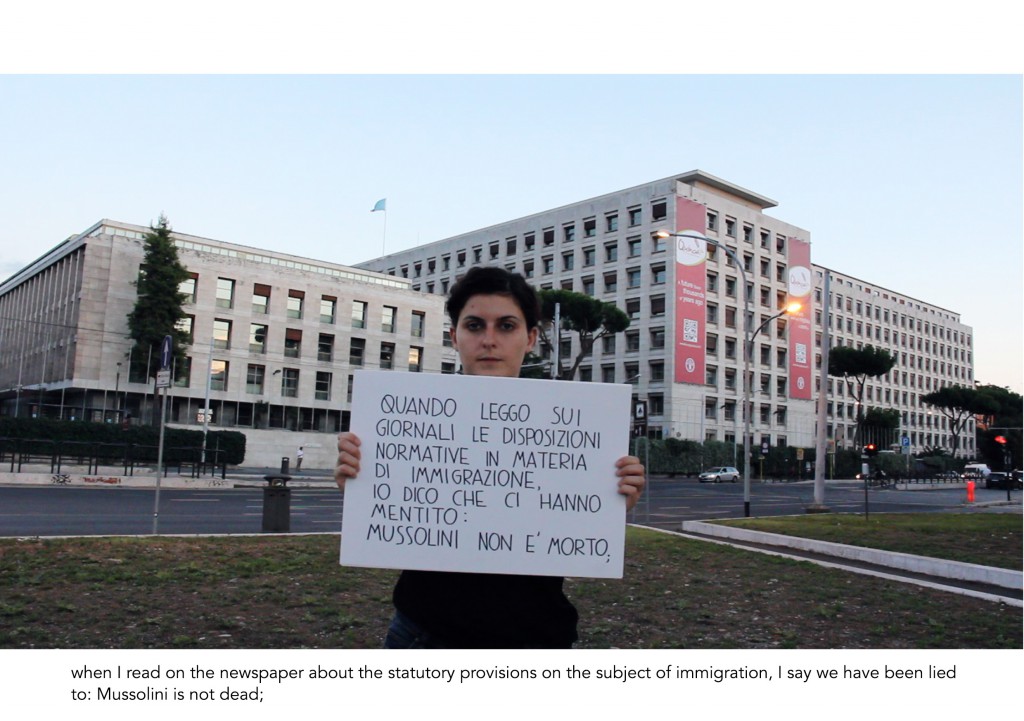 3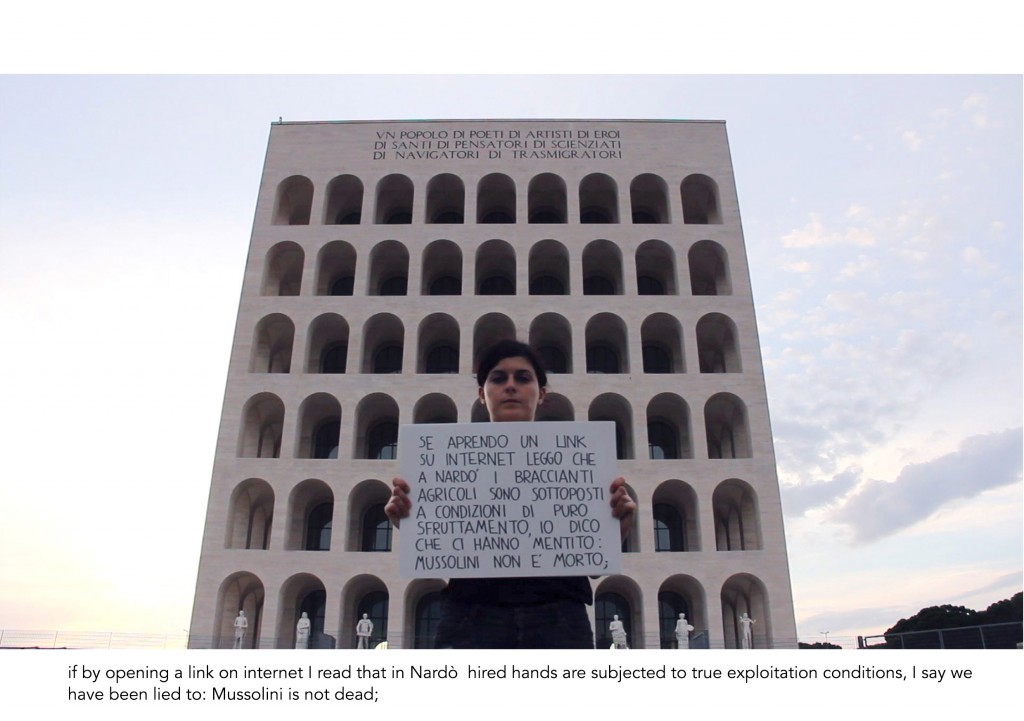 4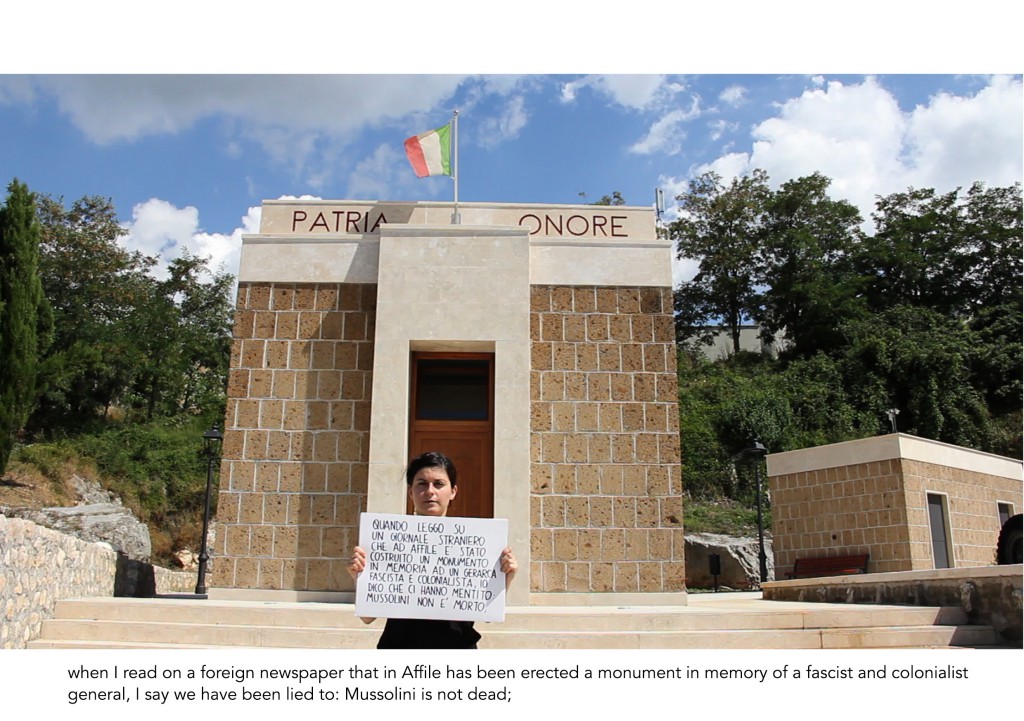 5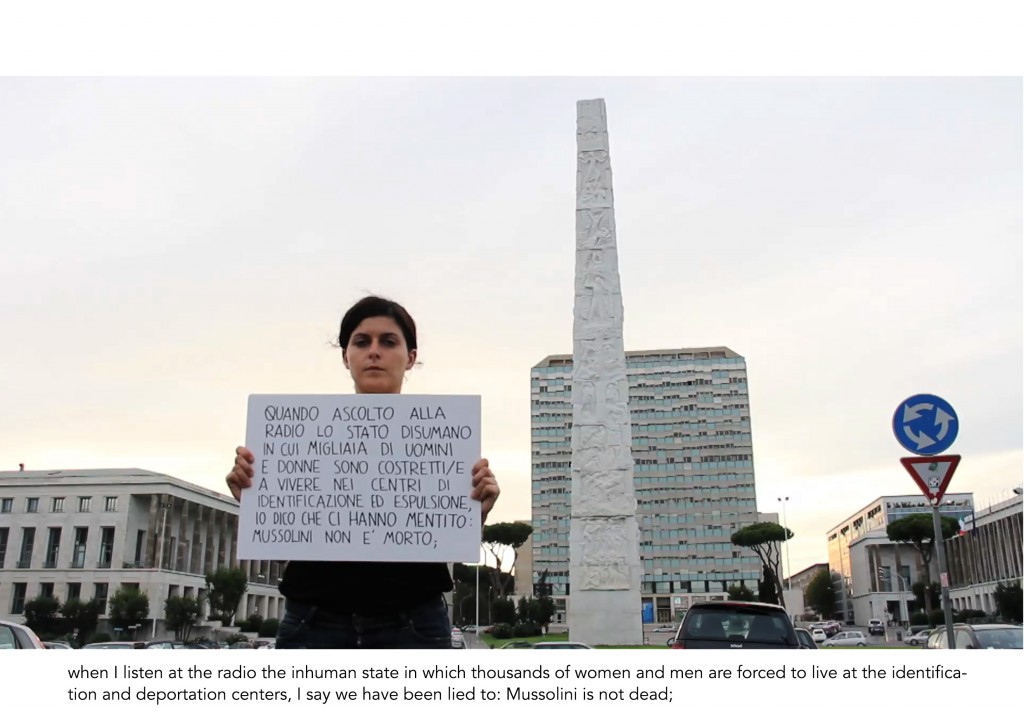 6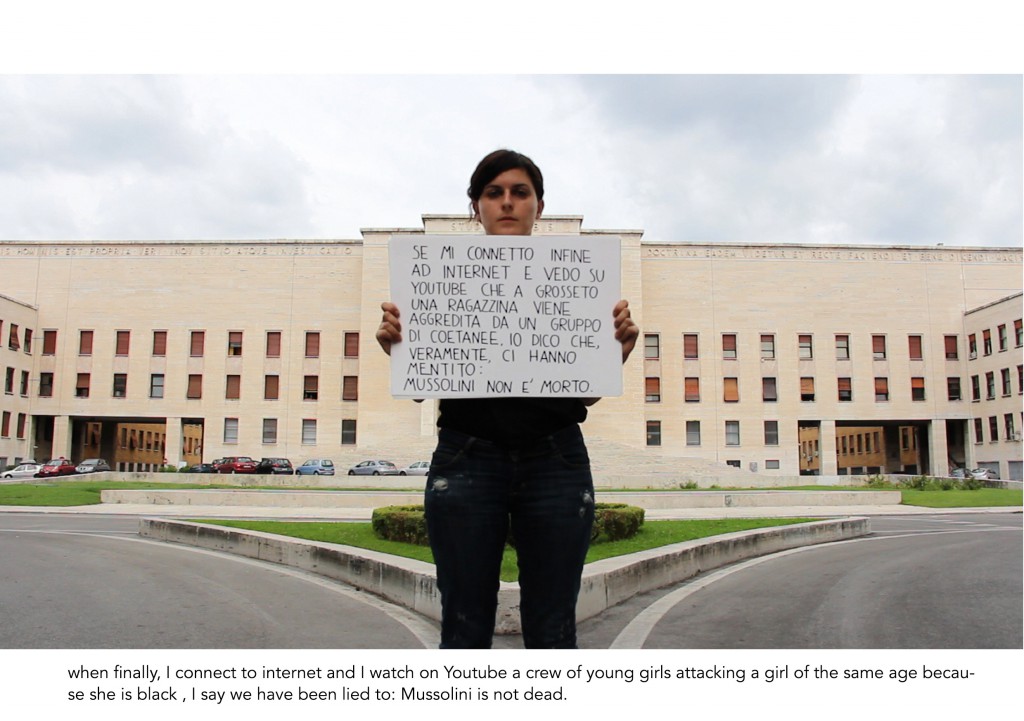 7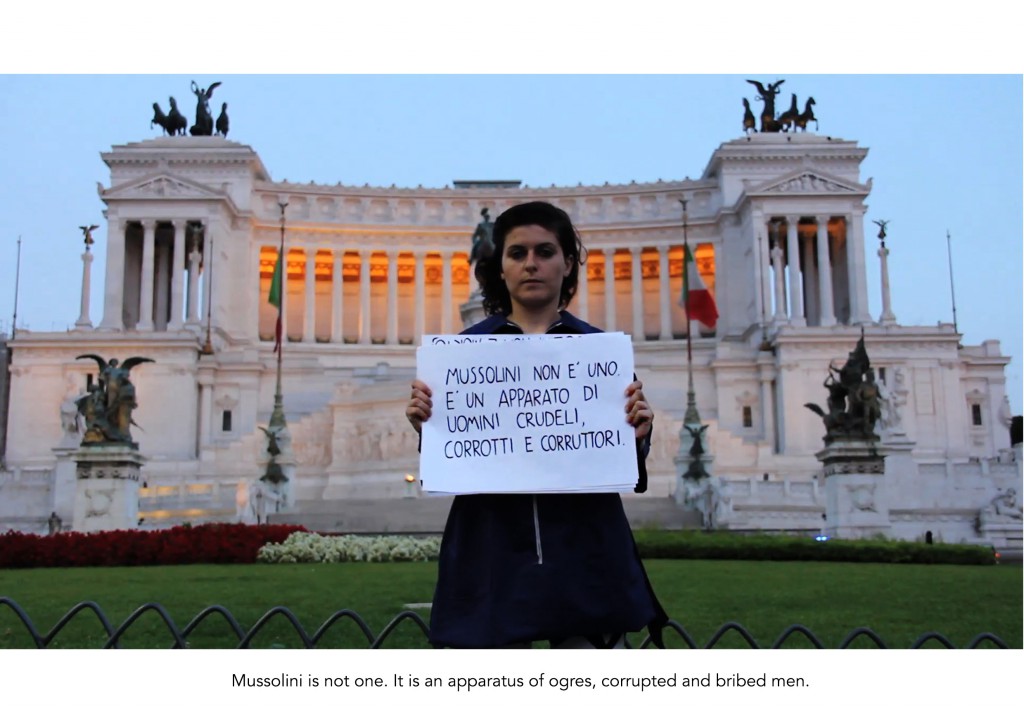 Which locations did I choose for these pictures?
1. EXPERIMENTAL FILM CENTER || The Experimental film center or Italian National film school was established in 1935 in Italy and aims to promote the art and technique of cinematography and film. It is the oldest film school in Western Europe, founded in the city of Rome in 1935 during the Benito Mussolini era by his head of cinema Luigi Freddi, was and is still financed by the Italian government and focuses on education, research, publication and theory. From the very beginning this institution worked very closely to Cinecittà and Istituto Luce, which are located in the same quarter[5].
Cinecittà is a large film studio in Rome that is considered the hub of Italian cinema. The studios were founded in 1937 by Benito Mussolini, his son Vittorio, and his head of cinema Luigi Freddi for propaganda purposes, under the slogan "Il cinema è l'arma più forte" (Cinema is the most powerful weapon)[6].
The Istituto Luce (Cinematography Educational Union) is a public institution devoted to film distribution for educational and informative purposes.  Born in Italy in 1924, the Istituto Luce quickly became a powerful propaganda tool of the fascist regime. The Luce was instituted by Benito Mussolini by the Royal Decree-Law No. 1985 of 5th November 1925. In July 1925, the Presidency of the Council of Ministers was branching out a circular to the Ministers of the Interior, Education, Economy and Colonies inviting them to rely exclusively on the technical organization of the Luce for educational and propagandistic purposes.[7]
2. EX MINISTRY OF ITALIAN AFRICA || This building was designed at the end of the thirties  (1930s) to host the Ministry of the Colonies, a department of the Italian Government of the Kingdom of Italy, with expertise on the administration of colonial possessions. It was established on the 20th of November 1912 by the Royal Decree no. 1205. It was in charge of governing the Italian colonies by governors and to direct the economy of the colonies. With the Royal Decree no. 431 of the 8th of April 1937 following the Italian conquest of Ethiopia and the birth of the Italian East Africa the ministry was renamed the "Ministry of Italian Africa".  It was abolished on 19 April 1953 by the law no. 430 of. Since then it  is occupied by FAO (The Food and Agriculture Organization of the United Nations). FAO was established on 16 October 1945, in Quebec City, Quebec, Canada. In 1951, its headquarters were moved from Washington., United States, to Rome, Italy.[8]
In 1937 it was erected in front of the Ministry for Italian Africa the Obelisk of Axum, taken as war booty and moved to Italy by the Fascist regime, which wanted to commemorate the conquest of Ethiopia and the birth of the ephemeral "new Roman empire". It was officially unveiled on October 28th 1937 to commemorate the 15th anniversary of the March on Rome.
In 1947with an  UN agreement, Italy agreed to return what was stolen  to Ethiopia.
It took more than 50 years to return the Obelisk to Ethiopia. The final piece was returned on 25 April 2005.
3. EX IMPERIAL SQUARE / GUGLIELMO MARCONI OBELISK || Arturo Dazzi was commissioned by Mussolini in 1937 for the realization of the monument to be erected in honor to Guglielmo Marconi.  The location chosen was at the central area of EUR, in particular at the then called Imperial Square. Now Piazza Guglielmo Marconi, which is surrounded by four Museums: of Ethnography, the Academy of Sciences, of Ancient Art and of Modern Art. The work was to be completed by 1942, with a view to the Roma Universal Exhibition, and
Marconi was addressed by the fascist propaganda as an example of patriotism and "genialità italica" (italic genius). Benito Mussolini, in a speech to the Senate on the 9th December 1937, stated: "No wonder if Marconi embraced, since the first day, the doctrine of the Blackshirts, who are proud to have him in their ranks.[9]" On the other hand Marconi did not hide his sympathies for the regime, saying: "I claim the honor to be the first fascist, in the field of radiotelegraphy, to recognize the usefulness of bringing together in a "fascio[10]" (bundle) the electric rays, as Mussolini was the first to recognize in the political arena the need to bring together in a "fascio" (bunch) the healthy energies of the Country for the grandeur of Italy. [11]"
4. RODOLFO GRAZIANI MEMORIAL || It is a monument that was built in August 2012 in Affile, Roma's province, in memory to the fascist colonialist general Rodolfo Graziani. In the following paragraphs you will find more information about it.
5. THE PALACE OF LABOUR CIVILIZATION || It is also referred as Squared Colosseum as conceptually reminiscent of the Flavian Amphitheatre (Colosseum).
The palace, a large business center and suburban complex, was initiated in 1935 by Benito Mussolini for the planned 1942 world exhibition and as a symbol of fascism for the world. The Palazzo was designed by the architects Giovanni Guerrini, Ernesto Bruno La Padula and Mario Romano and constructed between 1938 and 1943. It was inaugurated on 30 November 1940 as the centerpiece of the Esposizione and continues to be its most iconic building. The structure is also considered one of the most representative examples of Fascist architecture at the EUR[12].
The Palace of Labour Civilization and the ex-Imperial square / Guglielmo Marconi Obelisk are located in EUR. EUR, which stands for Universal Exposition of Rome, is a complex urban and architectural heritage of Rome, the 32nd district of Rome, now called Europe neighborhood. The complex, built by Benito Mussolini, was designed in the thirties in anticipation of the "Exposition Universelle", to be held in the capital in 1942 to celebrate the twentieth anniversary of the March on Rome, never carried out because of the war. It should have been the "Olympics of Civilization" headquarter and the new center of Rome.
The EUR provides a large-scale image of how urban Italy might have looked if the fascist regime had not fallen during the war—large, symmetrical streets and austere buildings of limestone, tuff and marble, in either stile Littorio, inspired by ancient Roman architecture, or Rationalism. Its architectural style is often called simplified neoclassicism. The event had clearly propaganda wills: it was intended to demonstrate at the international level, on the twentieth anniversary of the March on Rome by Benito Mussolini, the historical, artistic, scientific and political superiority of fascist's Italy.
6. LA SAPIENZA UNIVERSITY –  RECTORATE || The campus has been produced by a number of rationalists' architects during the thirties, in the midst of Italy's fascist era . The architectural project, strongly supported by Mussolini so that also the capital of Italy could have its university center, was part of the restoration work that involved the whole city until the Second World War. The campus was inaugurated on 31 March 1935 in the presence of King Vittorio Emanuele III. 
7. ALTAR OF THE FATHERLAND || The Vittoriano, also known as Altare della patria (Homeland Altar), or Monumento Nazionale a Vittorio Emanuele II (National Monument to Victor Emmanuel II) is a monument built in honour of Vittorio Emanuele, the first king of unified Italy. It was inaugurated in 1911 and completed in 1925. It is located in Rome and it overlooks the Piazza Venezia.
Benito Mussolini had his office in the Palazzo Venezia in the Sala del Mappamondo, and used its balcony overlooking the Piazza Venezia to deliver many of his most notable speeches, such as the declaration of the Italian Empire, 9 May 1936, to the crowds gathered in Piazza Venezia.
---

The "meschina Italietta"[1] has a history of violence, oppression, exploitation, killing, expropriation that for too long has been removed from our books, from our memory.
Which history? Our history!
Every time I talk about colonialism with friends, relatives, acquaintances or people I met by chance, almost everyone seems to minimize the extent of our oppressive imperialist intervention in the former colonies.
The rhetoric of the "short duration", "lacking economic productivity", "limited geographical extension", has been masked for more than a century as "colonialismo buono", that means a "good colonialism," and the Italian colonialists as "brava gente,[2]" "good-natured people".
As if colonialism could be in any way justified because of inferior range compared to other Europeans countries! In the guilty conscience of many is still the case.
People recall to the time when Italians were there to build bridges, roads, schools, and churches as if they were "civil" and "good" works done to "modernize" the countries and "help" local communities. These works were made because the occupations were both of settlement and of exploitation and so it served for the wealth of the colonizers and a greater benefit for the motherland. With the construction of roads and bridges for example, the transport of material was facilitated and the time needed shortened. Moreover it was possible to have a more extended control on a broken ground, difficult to be accessed by the military vehicles. The churches were built to give spaces to the missionaries to carry on their work of evangelization and "civilization" of the populations considered "wild" and deprived of human values. The schools, first and foremost built for the education of the colonizers children, were places of indoctrination where it was imposed the superiority of western knowledge, both through the imposed language and through the subjects taught. The cultural heritage of local communities was concealed.
Ever the schools were religious one, where the need was to wipe out who these children were to make them who they wanted them to be.The circles of culture, which in the time of fascism became fascist headquarters, were places where only whites Italians could have access. Nonetheless some black native people were "welcomed" either as attendants, colonial soldiers, or in some cases lords of local "elite" who had been hired paternalistically in local power positions within the community to have a direct control over the population. These last were also who to then pass on the colonial heritage of command, as coadjutor in the administrative and military colonial apparatus. This was done to pursue even after the process of decolonization, a patriarchal culture of violence taught by the "settler's fathers".
Colonialism has a long history and its beginning lead back to the conquest of America, initiated by Christopher Columbus (Italian: Cristoforo Colombo) justified and quickly officialised by the papal bull "Inter caetera Divinae" promulgate by the then-pope Alessandro VI Borgia who in 1443 granted the Spanish reign with the domination on the new western territories. In the bull it is written: "The form used for this act was the usual medieval guarantee based on the fullness of the apostolic power of the Pope, and the possession of the discovered lands required the usual condition of the obligation to introduce the Christian religion in the occupied lands."[3]
To remember is also the "Romanus Pontifex" Papal Bull issued by Pope Nicholas V in 1454 which recognize to the Portuguese crown the conquests made on the African territories, in particular in Morocco (Ceuta, 1415) and along the coast of the Gulf of Guinea. In the Bull is even recognized the slavery of blacks in Africa subjected to the Portuguese colonizers either as a result of the occupation or under commercial purchase.[4]
This is pointing out to an indissoluble bond that exists between law, money, religion and politics.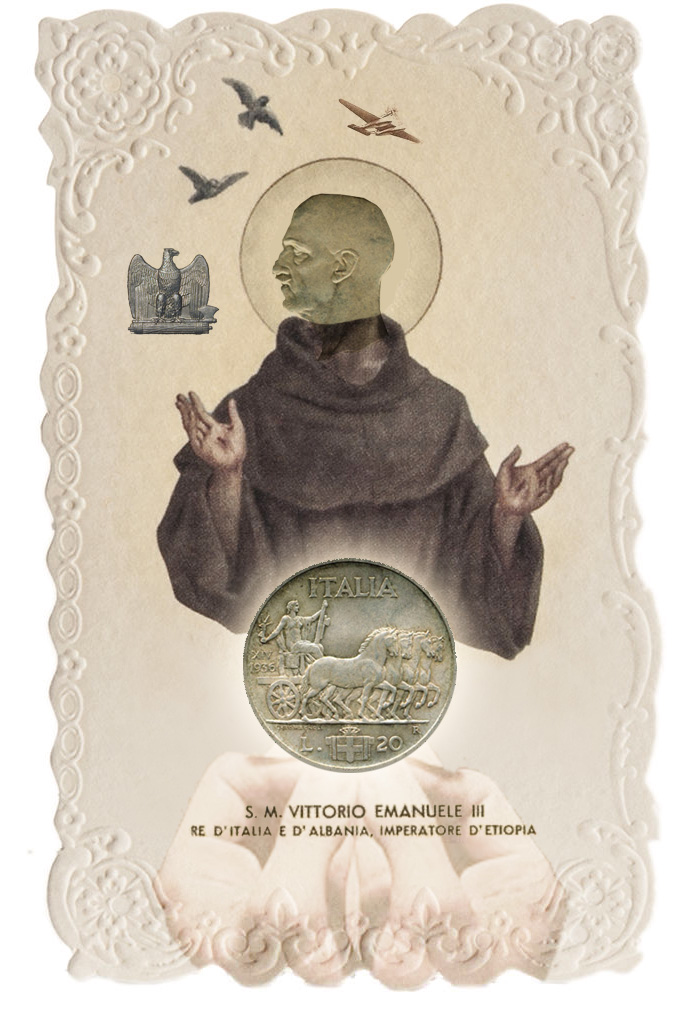 Photo Collage 2013, L'ostia dei popoli  (The people's holy bread)
 The collage includes different elements such as the Eagle fascist symbol, the 20L. Empire coin (forged in 1936 to honour the Italian Fascist Colonialist Empire right after the occupation of Ethiopia), the plane of a colonial postcard stamp and a St. Francesco holy picture.
Antar Marincola: "Once established in Rome, the Catholic Church needed to expand throughout the world. Colonialism was a vessel. Figures such as the religious missionary, the soldier and the explorer, were the ones who went to conquest the world. I believe that the Church did what any other power apparatus would do. It was to colonise a world and it was also to evangelize a world.
So boxes with weapons and other things would arrive, as well as boxes with bibles and gospels, and in some boats there could be a priest; two priests…
To stay out from world current affairs is not possible by the church; the church has always inhabited the world, it does it now and it will always do.
Today we have an Argentinian pope, a significant messenger of Jesuits during the Videla military dictatorship in the Dirty War from '76 until '83. He had a significant role in the junta when many people disappeared, many priests were killed too, and he hasn't told us anything about that so far. So where does the church stand when it's a question of power? The church stands by the power, it will always stand by the power. The power of colonialism was a relevant one, it has labelled an age, centuries. The church stands by power, the church is a power."
The scramble for Africa took place between 1876 and 1884, when the European powers, driven by the interests of imperialism, began to devote their attention to the African continent. The industrial expansion required raw materials to elicit and new markets where to sell the products of the industry.
The Europeans were already present in Africa before the nineteenth century because of commercial reasons. The coasts were used for the "slave trade" and to facilitate travel to India but the early explorations of the interior of the continent occurred only after 1815. Mainly missionaries of various churches who had the task of civilizing the "barbarians" people of Africa carried these out. At this point two were the crucial events that changed radically the relation between Europe and Africa.
First was the "Geographical Conference of Brussels", organized by King Leopold II of Belgium in 1876, which lay the ideological foundations of the conquest of the African continent, used then by all European powers to justify their "imperialist" enterprises.
Then there was the international "Berlin Conference", commissioned by the German Chancellor Bismarck and France, where Britain, France, Germany, Belgium, Netherlands, Italy, Spain, Portugal, Austria-Hungary, Denmark, Sweden, Russia, Turkey and the United States took part to regulate the navigation and the commerce along the rivers Congo and Niger, but in fact the real goal was to give to white peoples overseas, the European powers, the right to sovereignty over the African continent. For this reason the Congress conventionally marks the start of the scramble for Africa.
Most of the boundaries that exist today in the former colonies are artificial creations of Western hegemony. What impact has their definition on the current political situation of these countries?
Antar Marincola: "It is clear that these borders arose within colonialism, and it's true that once they are in place one can grow fond of them and one does not question them. And why? Because to 'trespass' is far more complex.
For one to 'trespass' it means to undergo a challenge, and so to expose oneself when you have power is one thing, but having to question the borders that have been instrumental to Western colonialism, means to rethink what it meant to Africa before colonialism and after colonialism.
This issue is very complicated. So, what did they do in Somalia? They left the borders where they were because they thought "There are already 4 or 5 different languages and religions; and if we were to eliminate the borders there would be even more confusion". The confusion becomes the most interesting element concerning the discourse on openness, but certainly for a disciplinary and power discourse it becomes the element they must always fight."
It is clear that the "explorations" were not merely done by European governments for scientific and humanitarian purposes but that these aggressions were driven by political and economic interests.
After few years of its formation, the unified Italy started soon to have expansionist goals.
Italian colonialism had two faces, one during the liberal period (1882-1921) and the other during the fascist one (1923-1943). In 1869 the Lazarist father Giuseppe Sapeto purchases on behalf of the Genoa shipping company Rubattino the Bay of Assab (Eritrea) from the local sultans. This is the first Italian outpost in Africa. After some years, in 1882, the Italian state buys from Rubattino the rights on Assab, which is officially proclaimed Italian colony.
The most substantial Italian colonies were Eritrea (1882-1947), Tien-tsin in Cina (1902-1947), Italian Somalia (1889-1908), Libya (1911-1943), Catelorizzo, Rodi and the Dodecanese islands (1912-1943), the Saseno islands and Capo Linguetta in Albania (1920-1943), Italian Ethiopia (1936-1941) and Albania (1939-1943). In addition, we shall remember the occupation of Slovenia and Croatia (1941-1943).
---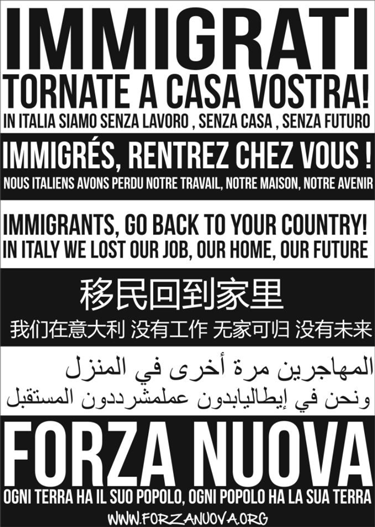 [ii]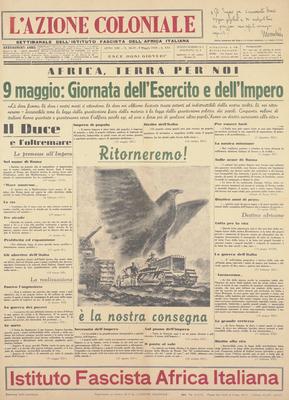 [iv]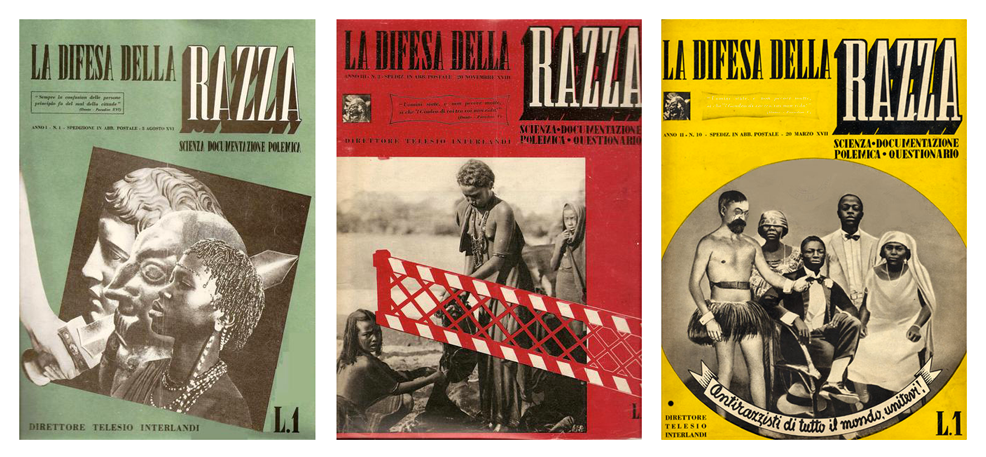 [iii]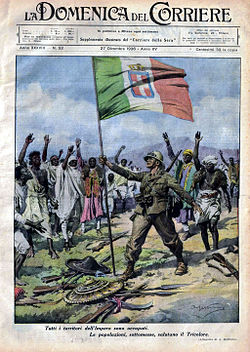 [iv]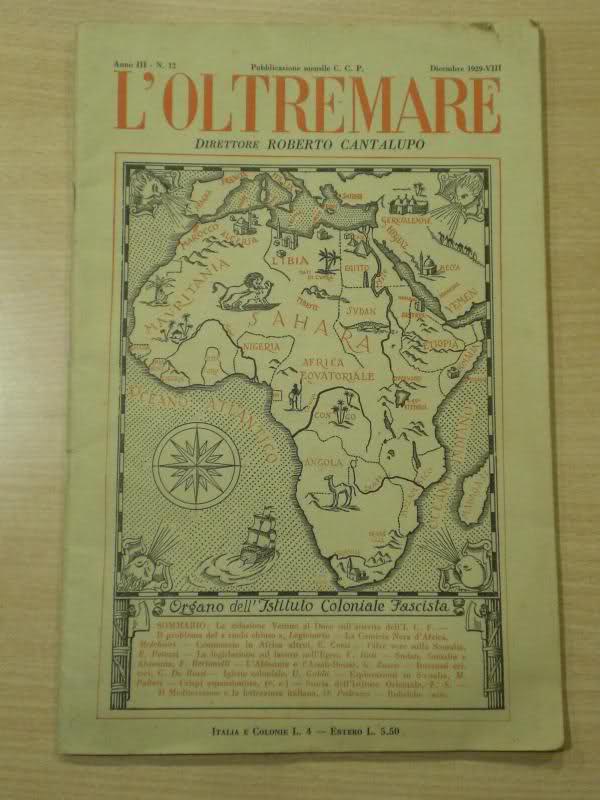 [v]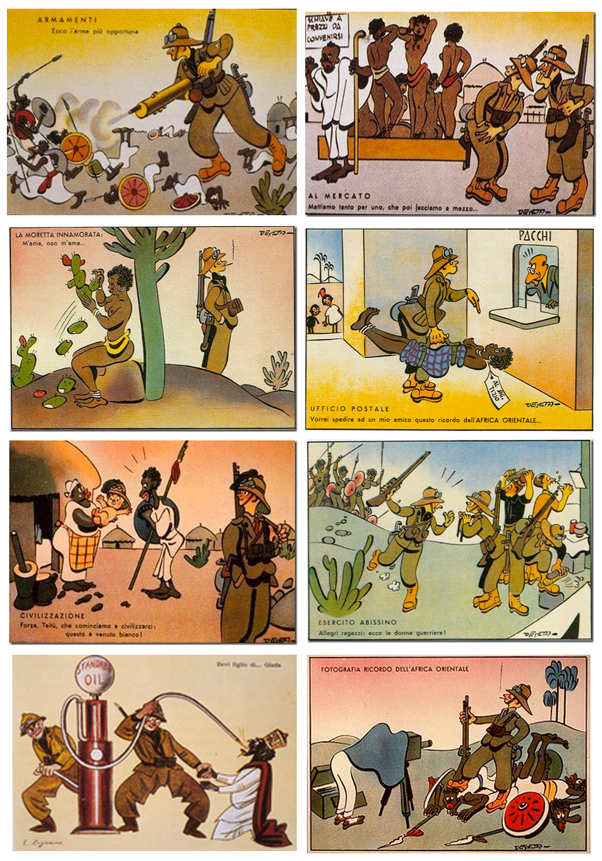 [vi]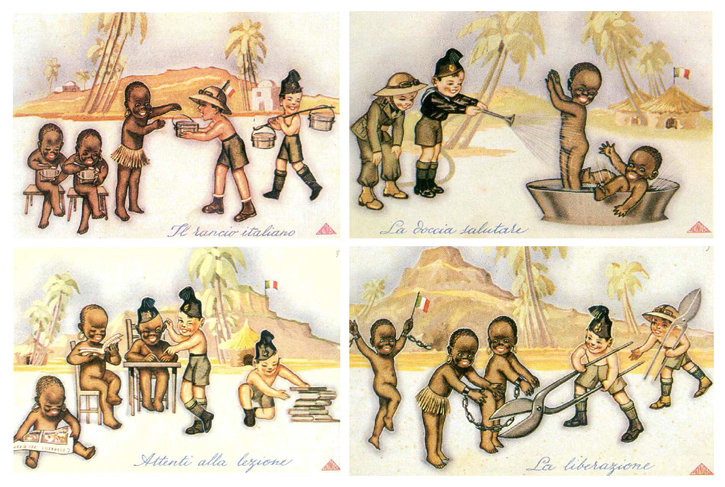 BIBLIOGRAPHIC REFERENCES
 Texts
– Valentina Acava Mmaka,  Io…Donna…Immigrata PIÈCE* Tratto da Kúmá
– Kaha Mohamed Aden, 1982: fuga da casa
– Ali Mumin Ahad, I "peccati storici" del colonialismo in Somalia
– Ali Mumin Ahad, Il dualismo sab/somali e la definizione della identità nazionale somala-
– Ali Mumin Ahad, La Letteratura post-coloniale Italiana: una finestra sulla storia, Tratto da Kúmá
 – Ali Mumin Ahad, Towards a critical introduction to an Italian post-colonial literature
– Carolina Agredo Villaquiràn,  Flowers between the stones. A story of colonisation still alive today.
– S. B., Essere stata leghista Tratto da Kúmá
– Daniele Barbieri – Hamid Barole Abdu, OMSIZZAR, Letture sul razzismo dai mille volti, sul mondo a rovescio e sul buon senso a testa in giù, Tratto da Kúmá
– Fabio Benincasa, aprile 2001, IMMAGINI & COLONIE I percorsi dell'esotismo nel cinema italiano, Tratto da Kúmá
– Francesco Cecchini, Ascari e massacri fascisti in Eritrea
– Uoldelul Chelati Dirar, From warriors to urban dwellers. Ascari and he military factor in the urban development of colonial Eritrea
– Uoldelul Chelati Dirar, Fedeli servitori della bandiera? Gli ascari eritrei tra colonialismo, anticolonialismo e nazionalismo (1935-1941). Tratto da L'impero fascista. Italia ed Etiopia (1935-1941) di Riccardo Bottoni, il Mulino, Bologna, 2008.
– Uoldelul Chelati Dirar, Essere africani nell'Eritrea italiana. Tratto da Adua, le ragioni di una sconfitta, a cura di Angelo Del Boca
– Daniele Comberiati,  Scrittori della migrazione. Le molte voci del "soggetto nomade"
– Alessandro Corio, Spettri di Spiavak:"presa di parola" e "rappresentazione" ai margini del canone occidentale
– Maria Laura Cornelli, Daniela Rosa, Rita Tironi, Giorgio Marincola, il colonialismo italiano e la tavola della pace di Bergamo.
– Umberto Eco, Il fascismo eterno
– Alfredo Gonzàlez-Ruibal, Fascist colonialism: the archeology of italian outposts in western Ethiopia (1936-1941)
– Marina Gržinić, From Biopolitics to Necropolitics, Lecture for Knowledge Smuggling!, Belgrade, 12 January 2009
– Paolo Jeddlowski, La memoria pubblica e i media: il caso del passato coloniale italiano
– Camilla Martinenghi, a cura di, Teatro delle migrazioni: L'altrofestival, intervista al Direttore artistico Leonardo Gazzola.
– Achille Mbembe, Necropolitics e Postcoloniality: going beyond the text
– Paola Pastacaldi, I meticci italo somali, italiani dimenticati nel libro "Nuvole sul'equatore" di Shirin Ramzanali Fazel
– Shirin Ramzanali Fazel, New Generation, El-ghibli.
– Kombola Ramadhani Mussa, Le ex-colonie italiane nei racconti orali di Ribka Sibhatu e Kaha Mohamed Aden: I Documentari LA quarta via. Mogadiscio, Italia e Aulò. Roma post-coloniale
– Sonia Sabelli, L'eredità del colonialismo nelle rappresentazioni contemporanee del corpo femminile nero , Zapruder 23, 2010
– Intervista raccolta da Liana Sarra (9 marzo 2004) , I percorsi meticci nel cinema di Mohamed Rachid Benhadj. Tratto da Kúmá
– Igiaba Scego, La ricsostruazione dell'immaginario violato in tre scrittrici italofane del Corno d'Africa
– Igiaba Scego, La donna violata
– Sibhatu Ribka, Metekù
– Susan Sontag, Fascinating Fascism
– Il Caso S., Corpi di donne nel colonialismo italiano. Introduzione. Immagini e dominio coloniale.
– Ngũgĩ wa Thiong'o, Decolonising the Mind. 4. The Quest for relevance, p.87
– Alessandro Triulzi, Ritorni di memoria nell'Italia postcoloniale
– Un dialogo tra Wu Ming 2 e Giuliano Santoro, La guerra razziale. Tra Affile e il colonialismo rimosso (http://www.wumingfoundation.com/giap/?p=10261)
Books
– Kaha Mohamed Aden, Fra-intendimenti. Roma, Nottetempo, 2010
– Etienne Balibar, Cittadinanza, Bollati Boringhieri, giugno 2012
– Aimè Cesaire, Discorso sul colonialismo. Ombre Corte,  febbraio 2010
– Daniele Comberiati, La quarta sponda. Scrittrici in viaggio dall'Africa coloniale all'Italia di oggi. Caravan edizioni, 2009
– Carlo Costa, Lorenzo Teodonio, Razza partigiana. Storia di Giorgio Marincola (1923-1945). Iacobelli Edizioni, 2008
– Carlo Cresti – Benedetto Gravagnuolo – Franscesco Gurrieri, Architettura e città negli anni del fascismo in Italia e nelle colonie. Angelo Pontecorboli, 2004
– Angelo Del Boca, Italiani, brava gente? Un mito duro a morire, Neri Pozza, Vicenza 2005
– Angelo Del Boca, Gli italiani in Africa orientale. Vol. 2: La conquista dell'Impero, Laterza, Bari 1979; Mondadori, Milano 1992
– Frantz Fanon, Pelle Nera, Maschere bianche. Il nero e l'altro. Marco Tropea Editore, 1996
– Frantz Fanon, I dannati della Terra. Einaudi 2007
– Cristina Ali Farah, Madre Piccola. Frassinelli 2007
– Shirin Ramzanali Fazel, Lontano da Mogadiscio, Roma, Datanews, 1994
– Gabriella Ghermandi, Regina di fiori e di perle, Roma, Donzelli, 2007
– Ranajit Guha, Gayatri Chakravorty Spivak, Subaltern Studies. Modernità e (post)colonialismo, Ombre Corte, 2002
– Armando Gnisci, Creoli, meticci, migranti, clandestini e ribelli. Meltemi editore, 1998
– Eric J. Hobsbawm, Nazioni e nazionalismi dal 1780. Programma mito e realtà. Einaudi, 1991
– Gabriella Kuruvilla, Ingy Mubiayi, Igiaba Scego, Laila Wadia, Pecore nere. Racconti. A cura di Flavia Capitani e Emanuele Coen, Lateza, 2005
– Nicola Labanca, Oltemare. Storia dell'espansione coloniale italiana , Bologna, Il Mulino, 2002
– Lunaria, a cura di,  Libro Bianco sul razzismo in Italia.
– Sabrina Marchetti, Le ragazze di Asmara. Lavoro domestico e migrazione postcoloniale, Ediesse, 2011
– Sandro Mezzadra, Diritto di fuga. Migrazioni, cittadinanza, globalizzazione. Ombre corte, novembre 2006
– Gustavo Ottolenghi, Gli italiani e il colonialismo. I campi di detenzione italiani in Africa, SugarCo, 1997
– Sibhatu Ribka, Aulò. Canto-poesia dall'Eritrea, Sinnos,1993
– Tzvetan Todorov, La conquista dell'America. Il problema dell"altro". Einaudi, 1992
– Michel Wieviorka, Il razzismo. Laterza, 2000
– Wu Ming 2 e Antar Mohamed, Timira, Romanzo Meticcio, Einaudi, 2012
Webliography
– http://www.el-ghibli.provincia.bologna.it
– http://www.disp.let.uniroma1.it
– http://www.storieinmovimento.org
– http://www.stranieriinitalia.it
– http://www.cronachediordinariorazzismo.org
– http://www.archivioluce.com/archivio/
– http://www.campifascisti.it
Movies
– The Lion of the desert, 1981, directed by Moustapha Akkad,
– Fascist Legacy, 1989, BBC documentary film
– The Camp at Thiaroye, 1987, directed by Ousmane Sembène
– Teza, 2008, directed by Haile Gerima
– The Belly of an Architect, 1987, directed by Peter Greenaway
– Come un uomo sulla terra, 2008, directed by Dagmawi Yimer
– La quarta Via, 2011, with Kaha Mohamed Aden directed by Simone Brioni
All the pictures, beside the one I took personally, are of Public Domain on the Web.
Quest'opera è distribuita con Licenza Creative Commons Attribuzione 3.0 Unported.